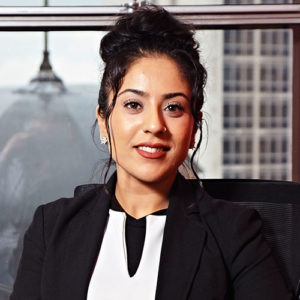 Mahira Ibrahim
OFFICE ADMINISTRATOR - LEEDS
Mahira is responsible for the smooth operations of the Leeds office and ensuring all fee earners can complete their work efficiently. Prior to joining MRN in November 2016, Mahira studied Beauty Therapy with Science before completing an apprenticeship in business administration in 2012. During her apprenticeship, her manager quickly saw her skill and ability and pushed her to complete her apprenticeship in half the time. Her experience lies in administration, working at Bradford Council for many years as a licencing officer. On a day-to-day basis, Mahira plays an active support role to all fee earners, along with many other duties including preparing invoices, organising the exchange of documents between clients and archiving.

Its fast-paced nature combined with the knowledge that she is helping people do their own jobs efficiently drives Mahira's passion for the role. She excels with her organisation skills and meticulous manner to ensure everything is accomplished timely and correctly.

Outside of the office, Mahira enjoys running, socialising and trying different types of cuisines!