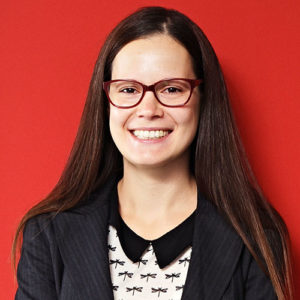 Louise Sattherthwaite
DEPUTY HEAD OF COSTS & ADVOCATE - LEEDS
Commercial Litigation
Personal Injury
Clinical Negligence
Court of Protection
Louise brings over 11 years of legal costs experience to her role as Deputy Head of Costs at the Leeds office.

In 2006, Louise graduated from Criminology at Liverpool University before beginning as a trainee costs draftsman at an external legal costs firm. In February 2008, she began at MRN Solicitors and quickly progressed to the position of Deputy Head of Costs for the Leeds office. While working full time at MRN, Louise successfully completed her Masters in Forensic Psychology in 2013.Although Louise has extensive experience in all matters of litigation, she specialises in high value and complex matters of clinical negligence and commercial litigation. Her drive and motivation stems from the complexity of such cases as she enjoys the satisfaction of overcoming the challenges involved. As an experienced advocate, Louise is regularly in attendance of CCMC's and Detailed Assessment Hearings, enjoying the creation of compelling verbal technical arguments live in Court.

Louise's approach with clients is tailored to their needs, gauging their style and wants from very early on. Although Louise is very particular in providing regular updates on the progress of a case, she is sure to take all delegated authority and collect all necessary information at the beginning of a matter so as to not disrupt her client from their own work unnecessarily. Central to her client-focused outlook is Louise's drive to achieve results that genuinely reflect the hard work and energy that her client put in for their case. Furthermore, she will direct clients in how to best utilise their time for coming matters in an effort to maximise their costs.

It is Louise's fine attention to detail, however, that sets her apart. Irrespective the size of the case, she takes a standardised approach for all matters believing that each case and client is equally as important. Louise ensures there is no compromise on quality and results between smaller and larger cases as they all hold importance to her client.

With her extensive legal costs career, Louise has achieved many significant results and worked on a number of notable matters. In a lengthy and contentious catastrophic road traffic accident involving a high speed chase, the Claimant was travelling in the back seat without the seat belt tightened and his friend driving, which posed issues surrounding liability. The damages settled for over £7.5 million and Louise prepared both a budget and Bill in excess of £1 million. In a food poisoning abroad case involving over thirty claimants, Louise prepared thirty separate Bills of Costs.

The case was complex as it involved jurisdictional issues as well as differences in severity due to the claimants being both children and adults. In another highly complex and valuable clinical negligence case involving a birthing injury, Louise prepared a Bill for £450, 000. The case settled at a joint settlement meeting three weeks before trial in which Louise successfully recovered 95%.

Beyond regular legal costs work, Louise also assists in litigant-in-person matters. In a recent case where the Claimant sued their brother after their brother sued them, Louise prepared a Bill of Costs and negotiated with the Defendant party. The challenge in this matter and others similar is the lack of organised files and direction from the Client which requires an extensive legal knowledge. However, Louise was successfully able to recover a high amount for her Client in this matter.

Louise's three kids keep her busy on the weekends! With the rare downtime she finds, she enjoys swimming and reading.