As we have recently reported, Guideline Hourly Rates have been something of a hot topic over the last few months. We have now received the eagerly anticipated working group report for consultation from the Civil Justice Council.
The report provides a number of recommendations and reminders, namely, :-
It is re-iterated that Guideline Hourly rates, are just that. Specifically, a line from MR Lord Phillips in 2004 is used to provide emphasis as to the considerations given. Lord Phillips had said "The guide is intended to be of help and assistance to Judges, but it is not intended as a substitute for the proper exercise of their discretion having heard argument on the issues to be decided."
It is not intended that proportionality will be reflected in the Guideline Hourly Rates.
If the recommendations are accepted, the working group are confident that Judges will have proper regard for Guideline Hourly Rates and will a) appreciate that they always have been and always will be no more than a guide, b) have regard to the proposed guide and c) exercise skill, care and common sense in the assessment of costs
A proposed re-defining of London 1 and 2. National bandings stay with the introduction of Band 1 Counties of Kent, West Sussex and East Sussex.
It is acknowledged that whilst in an ideal world there would be a regular review of Guideline Hourly Rates, this is currently impractical. In the short term, if accepted then it has been suggested the rates could be updated annually in line with SPPI index.
There is the possibility of a new certificate for N260's and Bills of Costs where firms are charging for work done in Central London offices as there are concerns that much of the work in some cases is being carried out in regional or outsourced offices. The CPRC might be requested to recommend a small amendment/alteration to the certificates requiring a signatory to specify the location of the fee earner carrying out the work.
The rates , if approved, are expected to be implemented swiftly
The proposed rates are as follows :-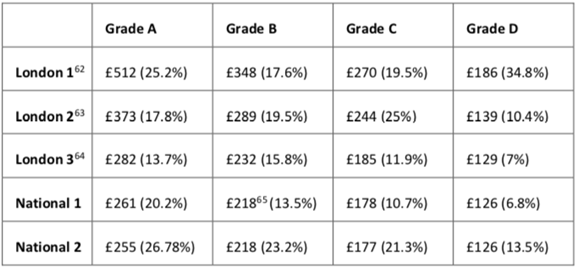 These rates are not beyond the sort of level we were expecting to see, with the recommended % increase ranging from 6.8% to 26.78%. The hope is that the recommendations will not take long to be implemented, however, after a 10 year wait we know that litigators will be hoping there isn't much longer to wait.